The Beginning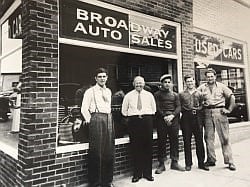 1920's
Born in 1910, Charles "Charlie" Steingold, a Russian-born immigrant, found his way to Rhode Island as a young boy just eight years old. After his years of school, he found work at the local scrapyard with his uncle in North Providence, RI. After years of gaining a wealth of knowledge, he ventured off to start his own scrapyard in Pawtucket, RI. Selling salvaged parts was the bulk of his business, but as the occasional used vehicle sale came along, he quickly realized a new opportunity. Broadway Auto Sales was born.
1930's
In 1934, after several years of success as a used automobile dealer, Broadway Auto Sales was offered the opportunity to become a Plymouth dealer by the Chrysler Corporation. As the Great Depression came along during the 1930's, many car companies and auto dealers failed, but Broadway Auto Sales endured. Charlie Steingold ran his business with tremendous efficiency and worked hard to keep everything running smoothly. In fact, he did so in such a manner that he was approached by even more car companies asking to hold their brand. Broadway Auto Sales now held Plymouth, Mercury and DeSoto.

With obvious signs of growth, the need for a new facility was apparent. Charlie searched tirelessly, and long behold, just one mile from its original location, Steingold Auto Sales was born. Shortly after the move, Ford Motor Company introduced the automobile Edsel, and it quickly joined the lineup. 
The Next Generation

1950's
With Steingold Auto Sales moving along well as a multi-franchise dealership, things seemed to have come together nicely for the fast-growing family business. Charlie's son, Kenneth - a graduate from Clark University in Worcester, MA and The University of Pennsylvania's Wharton School - had safely returned from two years of service in The United States Army during the Korean War, and was eager to join his father in the family business.
1970's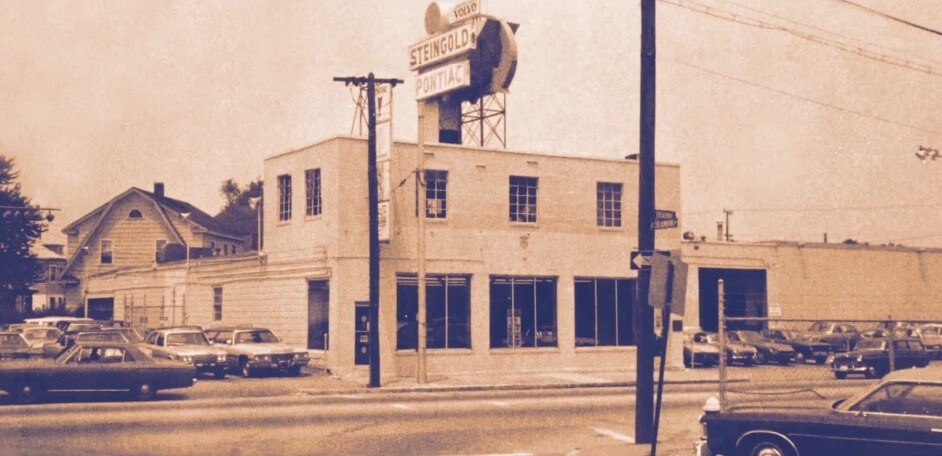 With nearly twenty years of success under the Steingold Auto Sales name, the multi-brand dealership was getting a lot of praise in the auto industry, and yet again was presented with more franchise opportunities. Circa 1970's Steingold Auto Sales added Pontiac, Peugeot and Volvo to its fleet. Shortly after the new acquisitions, major players in the auto industry called on Steingold - Rolls-Royce Motors, Bentley Motors, Lotus Cars and Clénet Coachworks. With the addition of so many brands in a short period of time, finding strong-willed employees became the number one priority for Charlie Steingold and his son Kenneth. 
In 1977, a young man just eighteen years of age, entered the showroom seeking a position at the prestigious auto dealership. With fluent language skills in Portuguese, Spanish, and English, it was an easy decision to add Manny Bernardo to their sales team. Born in Portugal, Manny Bernardo immigrated to the United States at the age of eleven. His strong work ethic and leadership skills spread quickly through the dealership, and fellow employees took notice. Within a few short years, Manny Bernardo earned the General Manager position at Steingold Auto Sales.
1990's
Steingold Auto Sales enjoyed many years of successful operation, until a sudden change heavily altered the family-run business. In 1991, Peugeot swiftly pulled out of the United States and Canadian markets, and other auto brands began to make moves of their own. Manny and Kenneth were left with a very important decision to make. "If we could keep just one franchise, which brand would it be?" they asked themselves. The answer was clear, as there was one brand in their fleet that stood out from the rest. With fantastic quality control, rigorous safety standards and an extremely loyal customer base, Volvo Cars was the easy choice and became the sole franchise of Steingold Auto Sales in 1992. At this time, Manny Bernardo, alongside his brother Tony Bernardo, became ownership partners with Kenneth in the long-time family business. On that day, Steingold Volvo Cars was born and a strong partnership was formed.
Present Day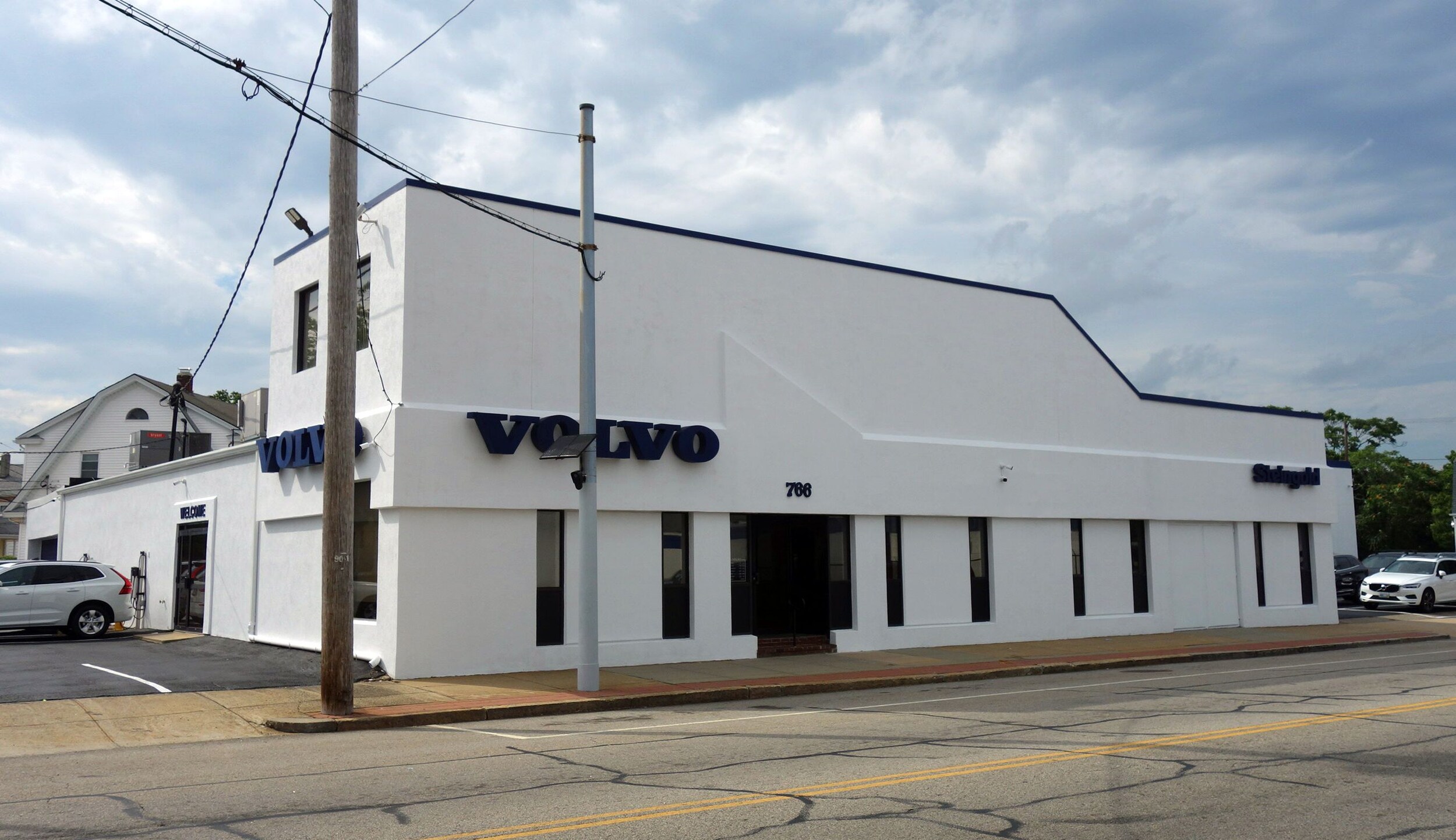 As years passed by, Steingold Volvo Cars has grown steadily as a family-owned and operated business, with the addition of even more family. Both of Manny's sons - Stephen Bernardo, a graduate of Providence College and Michael Bernardo, a graduate of The University of Rhode Island - eagerly joined the dealership and helped create tremendous growth during the digital age. Manny's wife, Lesley Bernardo, can also be found greeting customers as they enter the showroom. It is truly a family affair at Steingold Volvo Cars. With Manny and his boys, keeping a close eye on the front-end of the business with sales, marketing and finance, it is Manny's brother Tony, with the help of his son Tony Jr., that keeps the back-end of the business running smoothly between the service department, parts department and collision center.
Today, you can find all the members of the Bernardo family at Steingold Volvo Cars, as they continue to grow the historic family business. Even Ken Steingold can be found in the office on most days, as he is always happy to share the fond memories of his father, "Charlie"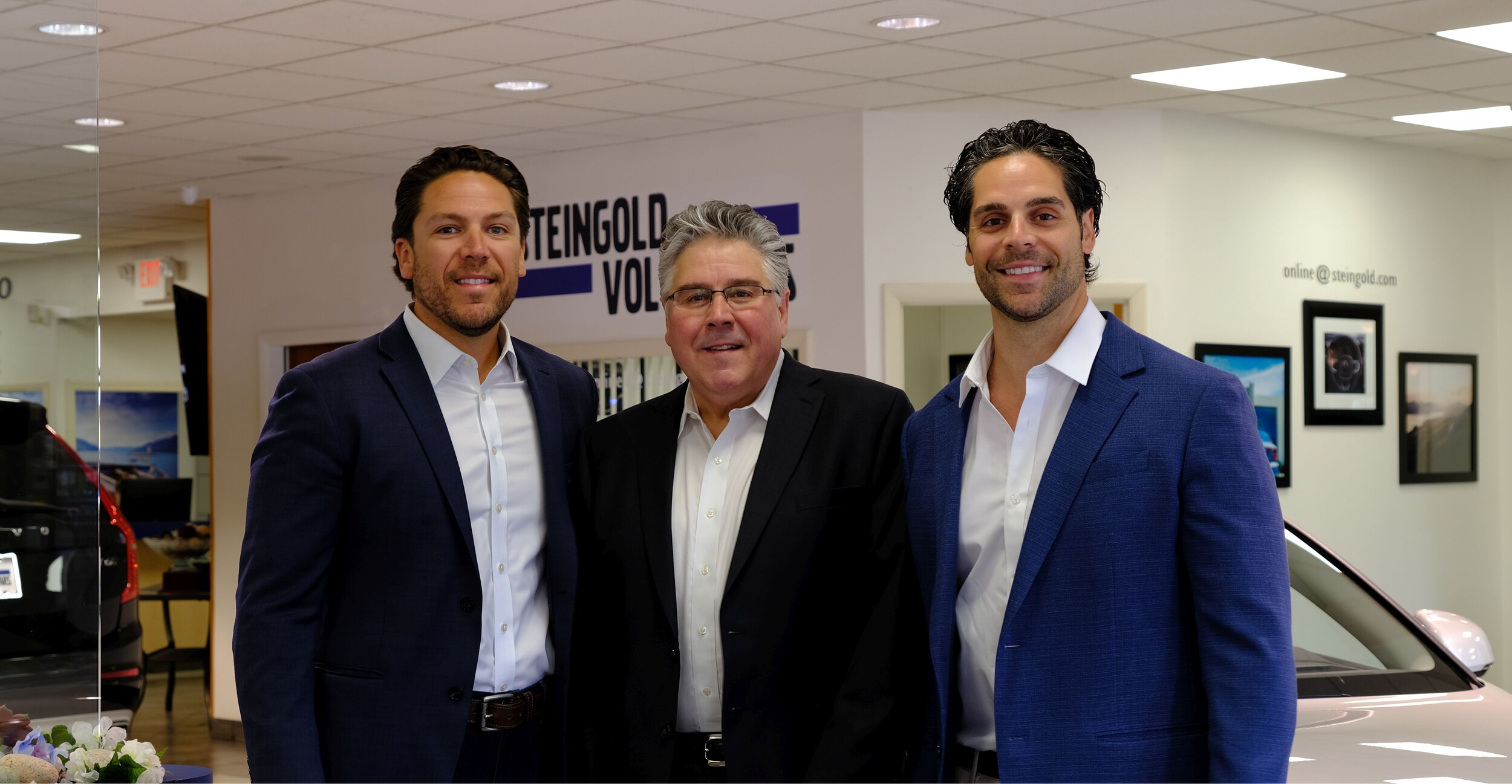 Steingold. And for those who plan on visiting Steingold Volvo Cars, be sure to check out the customer lounge. As the original Rolls Royce and Bentley showroom, this spectacular room is sure to leave you speechless.
Steingold Volvo Cars has enjoyed 80+ years in Pawtucket, RI as one of Rhode Island's most premier auto dealers. Maintaining one of the largest inventories in New England, the dealership consistently carries 200+ vehicles, both new and pre-owned. Over the years, customers have enjoyed unrivaled customer service as the company stays close to its original motto-
"Earn the trust and respect of your customers.

This will keep them always coming back."

- Charlie Steingold